Elite Flow Control have stringent Quality Management and Control System backed by qualification of ISO 9001:2015, PED (Pressure Equipment Directive), API 6D, API 607, API 6FA, SIL (Functional Safety Certificate), and our strong commitment to Environmental Management System, and Occupational Health and Safety Management Systems (OHSMS) is accredited with 14001:2015 and ISO 45001:2018 certification.
Elite Valves are manufactured as per international standards such as API, ANSI, ASME, ASTM, MSS, and NACE. Our engineering team consistently monitors updates to these standards and incorporates any applicable changes that affect the design, regulations, and performance of our valves. Each step of valve engineering and manufacturing can be validated using advanced software starting from the 3D model to finite element analysis of loads, tension and deformations, and final stress test.
All the tests are done internally in the dedicated testing area, by means of multiple and specifically designed (and certified) test benches that are used to control the output of the production line.
Elite Flow Control guarantees the performance and reliability of its products through the 100% systematic testing & Inspection carried out as per the Inspection / Test Plan, Required Specifications, and Applicable Manufacturing / Quality Standards.
Quality is one of the Core Value of the Company and it complied with but is not limited to the following as a minimum:
Design Review
Continuous Research for new materials either for construction and for sealing Material Properties Control (mechanical and chemical)
Materials Quality (Volumetric Tests, Magnetic Test, Penetrate Test, PMI)
Traceability of the materials and parts
Inspection During Production Process in all its phases Performances of the Valves
Accuracy in the final stage before shipment
Issuing of complete documentation file in full compliance with project requirement Respect to the Contractual Delivery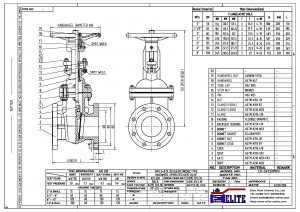 RAW MATERIAL INSPECTION
PRODUCTION
VALVE TESTING
PAINTING
PACKING
RAW MATERIAL INSPECTION
RAW MATERIAL INSPECTION
Raw material quality is vital for valve quality, Elite Valve source casting, and forging from the selected vendors.
Before machining, we always take 4 steps to guarantee the raw material quality:
Visual Test: Visual test as per MSS SP55
Valve wall thickness test: Random inspection of valve wall thickness by ultrasonic thickness meter
Chemical Component analysis: Random PMI test is performed to ensure qualification.
Dimension Check face to face; flange thickness will be checked before the process.
PRODUCTION
VALVE TESTING
PAINTING
PACKING